Bertha





















The silver wasp
, was born in 1964, and was originally blue. She's a full-blooded vespa Grand Lux 150 ccm Scooter. Her top speed is around 60 miles per hour, with the wind and the sun in the back. You can't compare it with driving' ordinary bikes like harley's, honda's, yamaha's and suzuki's, it's A feeling, it's THE feeling, it's the real ride...
I've had a lot of wonderful and weird, not to say scary, experiences while driving Bertha. No doubt that she is an old lady, and, with that in mind, she does not conform to modern bike behaviour. Not to mention the extra capabilities you, as a driver, have to master, in order to float a genuine original Vespa scooter through the traffic of today. And survive! Drive carefully...
I've been a member of Vespa Club Aarhus since back in 1989, or was it -88... - In those years I would frequently visit "Daddy's garage/Far's Garage" in Vejlby. Ib, the owner, was then, before emigrating to the Danish island Samsø, the absolute authority in classic scooter repairs, in the Aarhus area. "Bertha" had all her big and small sickness cured by Ph. D. Vespa Grand Ib !. Thanks for that...
For links to other scooter related sites we recommend our
This and That links section
The new Bertha / Den nye Bertha

December 2005: I have decided to give Bertha the "complete" restoration. A total renewal, which may include (maybe) a new colour! It will start with a complete dismantle of her, including her engine. My father Jens is the head mechanic in charge, while I supply with hard work and money! I'll supply with pictures of the process as possible.

December 2005: Jeg har besluttet at Bertha skal have den komplette restorering. En genkomst for en scooter, som muligvis betyder en ny farve! Det starter selvfølgelig med at skille hende fuldstændig ad, inklusiv hendes motor. Min far Jens er (selv) udnævnt chef mekaniker, og jeg må vist nøjes med at træde til med almindelig hårdt arbejde og pengene! Jeg vil forsøge at vise billeder her forsåvidt som tid muliggør det.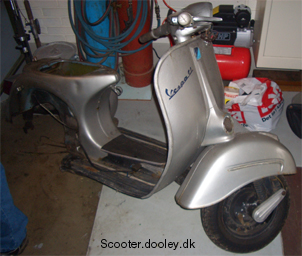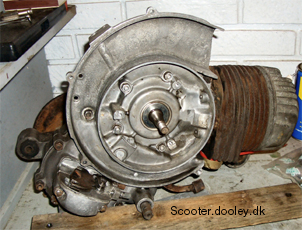 Januar 2006: Bertha's engine is now only pieces of metal. I wonder if she does ever have a spinning 2 stroke again!

Januar 2006: Bertha's motor er nu kun metal dele på et bord. Gad vide om hun nogensinde vil udstøde et to-takt igen!

February 2006: I've used some (several) hours of vacation days to blow of (almost) every spot of paint on Bertha. She's as naked as those pictures of Venus from Milo! Some steel work has to be done, in making her chassis up-to-date and free of holes! After that we have to consider the paint-job.

Februar 2006: Jeg har brugt en del timer i min ferie med at sandblæse næsten enhver plet maling af Bertha. Hun er så nøgen som Venus fra Milos! Der er noget svejse arbejde med at bringe hendes chassis up-to-date og fri for huller! Efter det må vi til at tænke over lakeringen.

March 2006: My father Jens and my brother Jes has spent a lot of hours preparing for the paint-job.

Marts 2006: Min far Jens og min bror Jes har brugt adskillige timer med at spartle, svejse og slibe inden lakeringen.

April 2006: The paint-job! After days of deciding pro and con's Bertha was sent to the paintman with the order: Metallic Blue, Ford USA, K3.64.85 Bimini blue 99751. Connecting the parts! Now in blue my brother and father has spent more than several hours putting back Bertha to a complete scooter.

April 2006: Larkeringen! Efter dagevis med overvejelser for og imod, blev Bertha sendt til lakering med ordreren: Metallic Blå, Ford USA, K3.64.85 Bimini blue 99751. Samlingen! Nu som blå har min bror og min far brugt mere end mange timer på at samle Bertha til en hel scooter igen.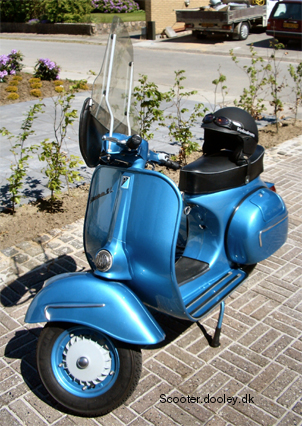 May 2006: Making her two-stroke, for more than a minute! Sounds easy! but it should show to be harder than expected. A new piston and many other new parts of the engine should expect smooth operation. But no, nothing seemed to work, steadily. After day and days of trial of all kind of ajustments, she would only run from time to time and only if her spark plug was cleaned on every start. After days and weeks, the head mechanic was on the edge of insanity. So we decided to have another look on Bertha by Peter (Ricambi.dk). A day in may Bertha was put on a truck and transported to "Vespa heaven" more precisely Ricambi in Skærbæk. After several hours of search on the operation table she got new magnets working so well that she blew all of her lights! Transforming from voltage of 6 to 12 and a voltage reducer made her spin.

Maj 2006: Få hende til at to-takte, i mere end et minut! Det lyder måske let men kan være mere vanskelig end forventet. Med nyt stempel og cylinder samt mange andre nye stumper burde man forvente gnidningsløs start. Men nej, intet ville rigtig virke, hvergang. Efter dage og atter dage med endeløse justeringer, ville hun kun køre en gang i mellem, og kun hvis tændrøret blev renset før hver start. Efter et par uger var chef mekanikeren ved at gå ud af sit gode skind. Så vi besluttede at få Peter (Ricambi.dk) til at kaste et blik på hende. En dag i maj stod Bertha på en trailerog lod sig transportere til "Vespa himlen" mere præcist Ricambi i Skærbæk. Efter timers søgning på operationsbordet havde hun ny magnetspole som virkede så godt at hun sprang alle pærer! Et skift fra 6 volt til 12 volt og en spændings reducer fik hende til at spinde.

June 2006: After shortening the gas line length, and experimenting with ajustments of the caburator, we declare 5th of june "Bertha day". She's spinning!

Juni 2006: Efter at benzin slangen er kortet op, og eksperimenteren med karburatorindstillinger, erklærer vi den 5. juni for "Bertha dag". Hun kører og spinder!
Facts:
First registrated in Denmark: 1964
Current colour: Ford USA, K3.64.85 Bimini blue 99751

A Scooter - the only way to the joyride
Vespa, not just two wheels...,
it's a lifestyle